"It's the final countdown…"
We are the proud owners of a Drinking Establishment Liquor License!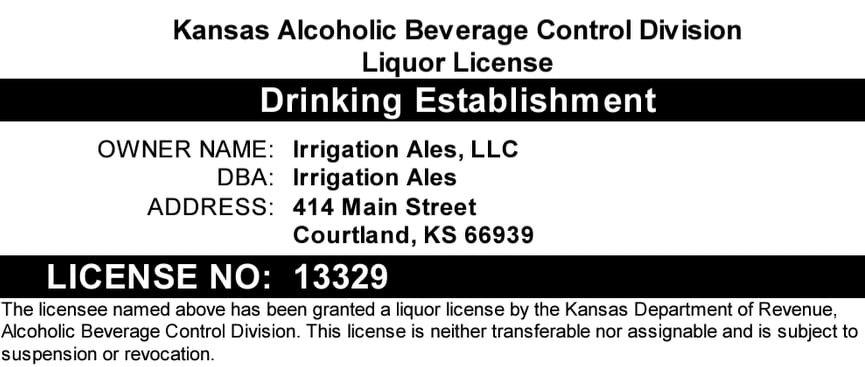 This means we can not only brew the beer, but we can sell it from our taproom too! We can also purchase Kansas-made wines and ciders to share with our taproom guests! It's like the last piece to the opening puzzle is in its place. We thought we were busy before, but we've been even busier than ever these past few weeks. We have brewed five batches of beer so far, with many others lined up to go! Our repurposed milk tanks converted into brewing kettles seem to be working great.
Christopher Walk-in is doing its job storing grain, cold storage, kegs, and everything needed to get started. Our cool-bot is able to keep Christopher at the required temperatures to make the beer, and us happy.
Last week we sealed the concrete bar top. The inside just got deep cleaned to remove all of the concrete dust. Currently, we're working on the decorations and organization of our new space. We're right at forty-nine seats in our space, and plenty of room to mingle as you wait for a table. The majority of our tables seat six, feel free to make friends and slide in with another group of Irrigators or belly up to the bar or our four-person high tops.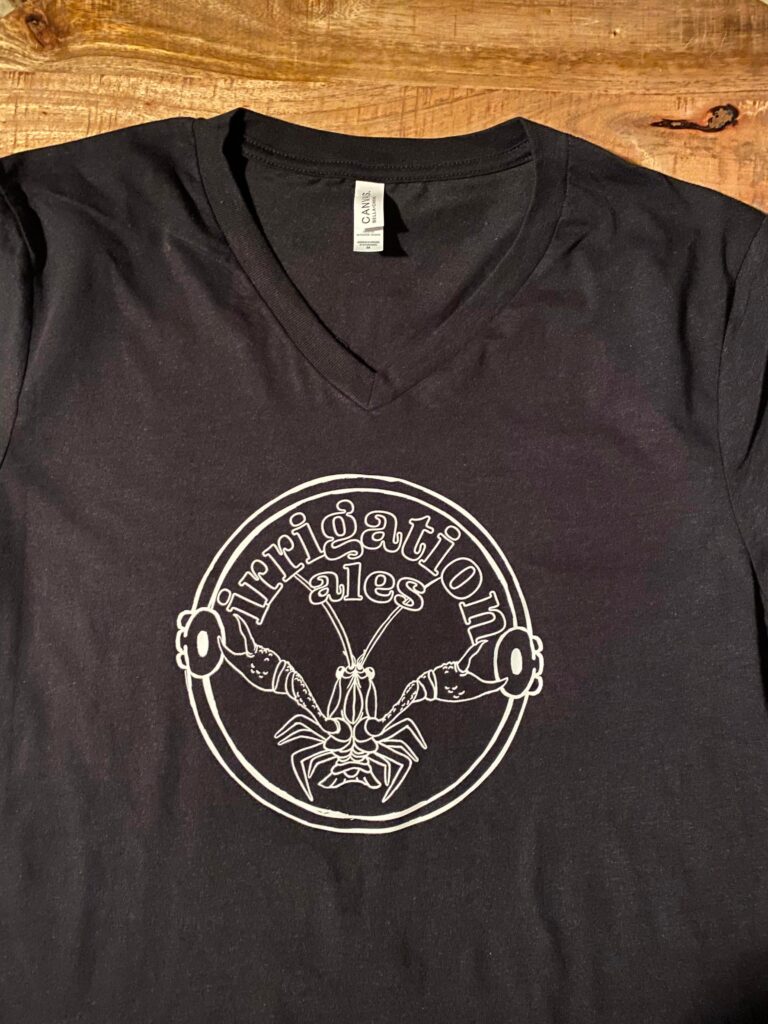 Merch is set up for your purchasing pleasure with some fun new colors ONLY available in-house. Stock up on gift cards to treat all of your friends to a pint! We are serving our craft beer, our craft soda, Kansas wines, Morning Light Kombucha from Hoyt, KS, and La Croix.
Let's chat about the grand opening!
Our ribbon cutting and grand opening will take place on
---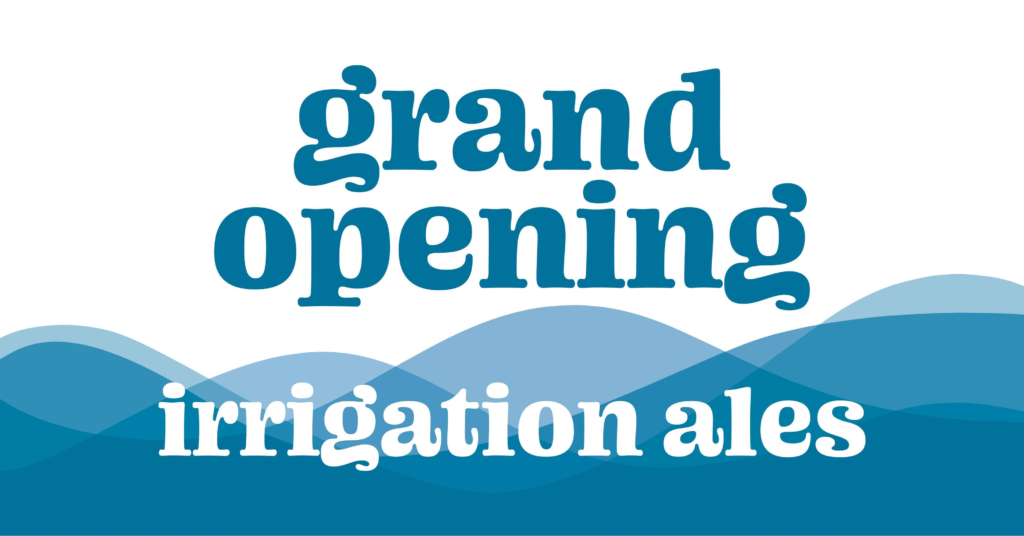 Friday, February 25th at 5:00 pm
@ 414 Main Street, Courtland, KS
---
Our hours will be Fridays 5-11 pm and Saturdays 12-10 pm until we have enough beer to add Thursdays later.
What to expect for opening weekend? We will offer draft beers in-house for now with no to-go options. We want to meet the needs of all of our customers but not run out of beer before we can get more made. We will start with a very limited menu of charcuterie boards, and other snacks. We have some great pre-packaged pretzels and chips for you to try as well.

Need something more? Remember you can now bring food in since the 30% food sales rule was removed! Support the great businesses in Courtland, Adri's (previously known as Pinky's) or AnTeaQues! On your drive-in from the east there are multiple options in Belleville or in Scandia grab a pizza from Panther Pause, food from T.A.G.'s. From the west hit up Sweden Creme in Mankato on your way into town. Other places to see and things to do can be found here.
Irrigation Ales is a place to celebrate local Kansas-made products with fresh quality ingredients. Our goal is to share our unique irrigation culture and the impact it has had on the Courtland region. When you walk into our taproom we want you to experience the reward of hard work and the small-town life that we love. Chat with the locals, share a table and definitely check out the other great businesses in our little town!
Thank you!
– Luke & Jennifer Mahin