Ballot Question to Remove Food Requirement for Alcohol Sales
Courtland, KS – Voters in Republic County will consider a special question on the November ballot.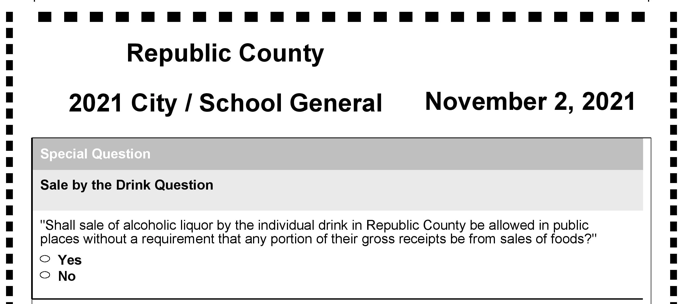 Shall sale of alcoholic liquor by the individual drink in Republic County be allowed in public places without a requirement that any portion of their gross receipts be from sales of food?
Since 1987 Kansas counties have the local option of whether to allow sales of alcohol with or without food. Currently, in Republic County, a business must earn at least 30 percent of their gross receipts from food sales to also sell alcoholic drinks.
This summer Luke and Jennifer Mahin, owners of Irrigation Ales, asked the Republic County Commissioners to consider adding this question to the November ballot. The microbrewery plans to open in Courtland later in 2021.
Mahin states, "That this change could help reduce red tape for other businesses including breweries, wineries, distilleries, sports bars, or even retailers who want to expand offerings."
Mahin said that many craft breweries, like the one he and his wife Jennifer plan to open, do not want to compete with restaurants. Courtland currently has two restaurants with a population of 294.
"We're not a restaurant," he said. "We don't want to compete with the great selection of restaurants in county. We want to focus solely on craft beer."
Irrigation Ales plans to offer appetizers and snacks. If the 30% food rule is removed, they will allow outside food to be brought in, promote local food menus, and use local catering options for special events.
Mahin adds, "Our local restaurants were hurt by COVID-19 and most are facing staff shortages. We'd rather partner with and promote local eateries than compete for food sales and workforce."
Around Kansas
Thirty-nine counties have dropped the 30% food sales requirement. In 2020, four counties passed measures to remove the requirement. In those counties, new and existing breweries requested the special ballot question.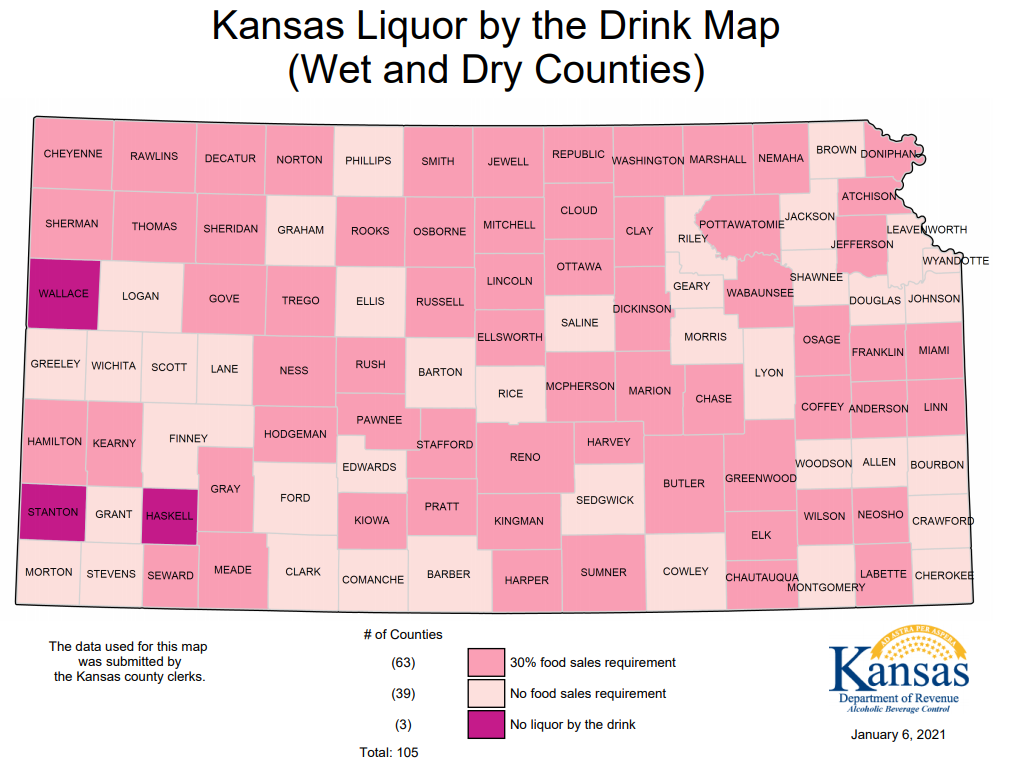 Republic County advanced voting runs from October 13th to November 1st and normal polling places will be open on November 2nd.
For questions, please contact Luke & Jennifer Mahin, Irrigation Ales Owners, at 785-374-3511 or hello@irrigationales.com.
###
-MORE-
Kansas Liquor by the Drink Map (Wet and Dry Counties) – https://www.ksrevenue.org/pdf/abcwetdrymap.pdf
Help us repeal the 30% food sales for liquor by the drink establishments –https://irrigationales.com/help-us-repeal-the-30-food-sales-for-liquor-by-the-drink-establishments/
About Irrigation Ales – https://irrigationales.com/ourstory/