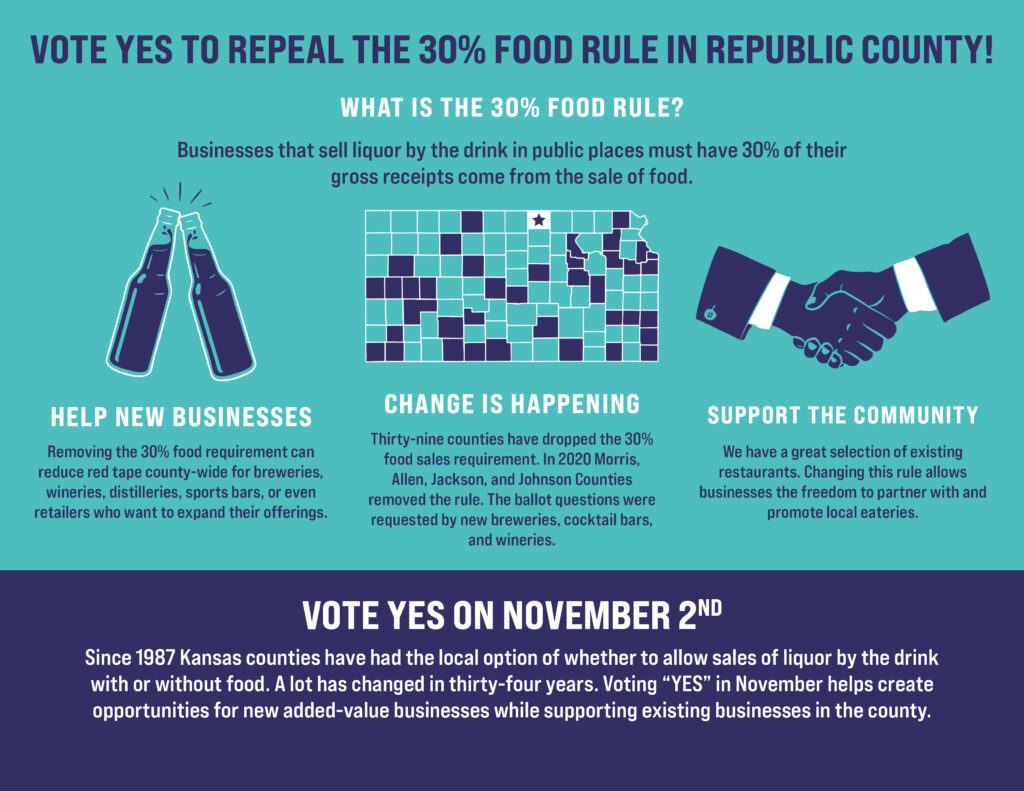 Vote To Decide Fate Of PV Bond Project; Alcohol Sale Change

By Deb Hadachek – Telescope News
http://www.thebellevilletelescope.com
Advance voting is off to a slow start despite two questions on the Republic County general election ballot, said Republic County Clerk Kathleen Marsicek.
Regular voting precincts will be open Tuesday, November 2. The clerk's office plans a mobile voting site at Republic Wednesday evening, October 27.
Otherwise, only 62 people had cast advanced ballots so far by Monday, October 25. The clerk's office filled 88 mail ballot requests and 35 have been returned to date; 27 voters took advantage of walk-in polling in Republic County Courthouse in the 10 days since polls opened, Marsicek said.
Countywide, voters will be asked to vote "yes" or "no" on the question:
"Shall sale of alcoholic liquor by the individual drink in Republic County be allowed in public places without a requirement that any portion of their gross receipts be from sales of food?"
Since 1987 Kansas counties have had the local option of whether to allow sales of alcohol with or without food. Currently, in Republic County, a business must earn at least 30 percent of their gross receipts from food sales to also sell alcoholic drinks. Thirty-nine counties have dropped the 30% food sales requirement.
Voters in the Pike Valley USD 426 district will be asked to approve $6 million in bonds to make improvements to buildings at Scandia and Courtland, including HVAC and electrical upgrades to both buildings, storm shelters, new locker rooms, a new roof and an enlarged Career/ Technical Education classroom at Scandia.
The only race on any of the ballots for city or school board election is in Scandia, where Gary Cline, Kelli Devine and Dana Larson are all seeking the position of Scandia mayor.