There are a lot of changes happening at 414 Main Street, so we thought it was time for an update! If you're local to the Courtland area you'll see a lot of movement in and around the brewery as we are getting closer to opening our establishment.
What we've been up to…
Over the weekend J. Williams Masonry helped us to pour a concrete countertop [watch the timelapse here]. Our countertop is still in the curing process. Up next will be to snap off the forms, sand, and seal the top so it's ready to hold your beer!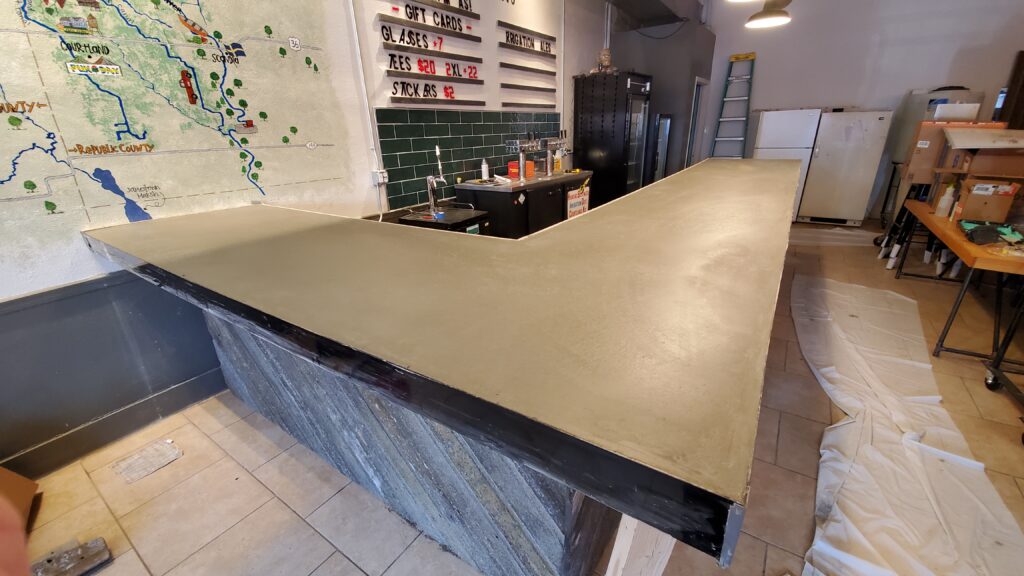 Last week VanMeter Renovation added a backsplash below our beer menu and behind the taps. The backsplash really brought this space together. The green backsplash goes well with the green in the murals as well as the lights from the old pump houses that are on display above the bar. Our new bar lighting is mounted from an irrigation pipe to really bring the theme of our brewery together.
Within the past few weeks, there have been a lot of new additions to the building helping us get closer to our opening date. Our refurbished milk tanks are in their new home in the brewing/kitchen area. We are currently filling and testing most of the equipment before we dive in and start brewing. We're hoping to start brewing sometime next week. We are the proud new owners of a microbrewery license that allows us to start brewing and selling beer to go (when it's ready). By the time our beer is fermented and ready to sell, we should have our drinking establishment license so that we can sell in-house.
What's to come?
We are hoping to get our Irrigation Ales sign later this week, to replace our Senior Center Pepsi sign. We still need to add some electricity to, "Christopher Walk-in", our former reefer trailer converted to cold storage and storage for the brewery. Once this happens we will be able to clear out our dining room space and start prepping that for future customers. We're currently working on our beer recipes and ordering the necessary materials to start brewing beer!
Our new Irrigation Ales gift cards are in, and they look awesome! Your loved ones definitely want an Irrigation Ales gift card for Kansas Day, Valentine's Day, and any other holiday you're in the gift-giving spirit for! *Gift cards can only be purchased in person for local pickup, online gift cards are available on the website. Email hello@irrigationales.com for questions on this.

With the cold Kansas temps still lurking, we also still have plenty of crew neck IA sweatshirts in black, blue, grey, or tye died colors! Check them out here!
Most of our evenings and weekends the last few months have been spent at Irrigation Ales. Our most common question is when will you open? This date has been pretty fluid depending on many factors. But our best answer is we'll tell you when we know! We'll share that first in our email newsletter [if you haven't, sign up here]. That date shouldn't be too far off. Our first month open we plan to be open Friday evenings and Saturday so that we can keep up with the beer demands and ensure that everyone can get irrigated with us!

We still plan to offer snacks such as chips, pretzels, and freshly made packaged grab-and-go appetizers. We want to share with you local Kansas wines, and hopefully some delicious Kansas-made ciders. We're excited to share our space with you soon.

Until then, check out Facebook or Instagram to stay up-to-date with what's happening at Irrigation Ales. We can't wait for you to experience everything Courtland has to offer!