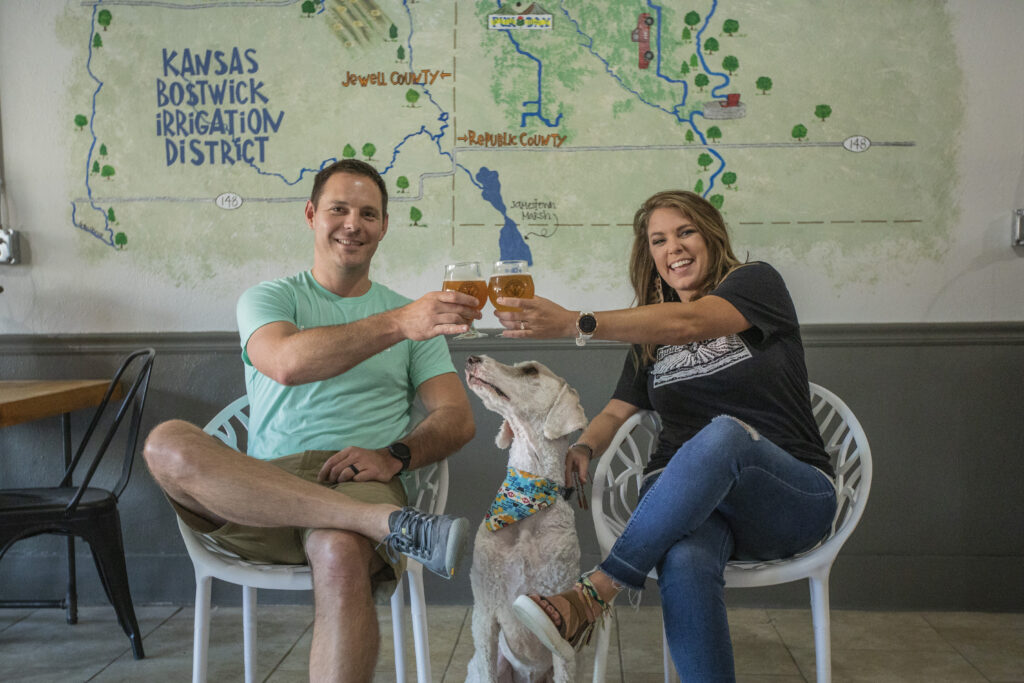 Luke and Jennifer Mahin are the co-owners of Irrigation Ales located in Courtland, Kansas. Irrigation Ale's mission is to positively influence our rural region and people through fermentation.
Courtland is Luke's hometown and Jennifer is originally from Columbia, Pennsylvania and they are proudly "Rural by Choice". They met while Jennifer was teaching in Nebraska and married in 2019.
Luke and his father Bill have nearly a decade of homebrewing experience, starting with a Mr. Beer extract kit and moving to all-grain soon after. Jennifer brings nearly two decades of serving and bartending experience to the business. 
Courtland, population 294, has always been an entrepreneurial town where new ideas are welcomed by locals and outsiders. The idea for a brewery in Courtland gathered more momentum when Luke helped start the Courtland Fermentation Club in 2014 shortly after the State of Kansas legalized sharing homebrew outside your next of kin in a group setting.
The group hosted monthly "meetings" sharing craft beer, homebrew, homemade wine, sourdough bread, kombucha, kimchi, and other ferments at the Arts Center or at the park. They found out that rural stereotypes were wrong and even Busch Light fans are interested in craft beer and there is a long history of closet homebrewers or winemakers in the area. The club had visitors of all ages (21+) driving over forty-five minutes on a Tuesday night to share from NCK and Nebraska.
By 2018 Luke, Bill, and his brother Caleb had secured a downtown building which allowed them to homebrew more often and begin renovations. Since then they have won awards at competitions from the Kansas City Bier Meisters, Hays Homebrew, Norton Arts Council, and others.

Luke and Jennifer's inspiration to bring craft beer to rural Kansas has come from trips across the US visiting family or on vacations in PA, DE, MT, MI, TX, CO, and CA. Most importantly they have been inspired by other breweries in rural Kansas and Nebraska becoming destinations and drawing people to their local products and unique culture.
*Irrigation Ales opened on February 25th, 2022.

Stay tuned for more…