Shall sale of alcoholic liquor by the individual drink in Republic County be allowed in public places without a requirement that any portion of their gross receipts be from sales of food?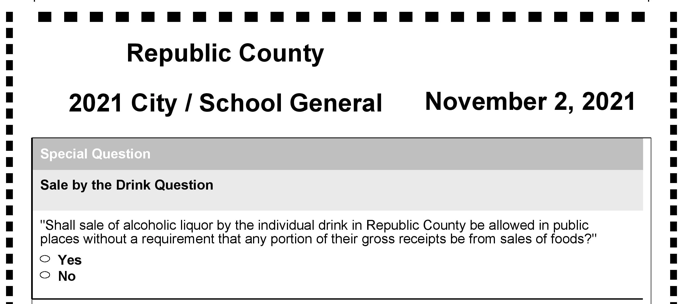 What does this mean?
This is a special question on the November ballot in Republic County. Kansas allows counties to vote for three options in regard to selling alcoholic liquor by the drink in public places (not private clubs).
Prohibit it in all public places.
Permit it, but 30% of gross receipts have to come from sale of food. Our county is currently here.
Permit it with no stipulations on portion of sales having to come from food. We would like to be here.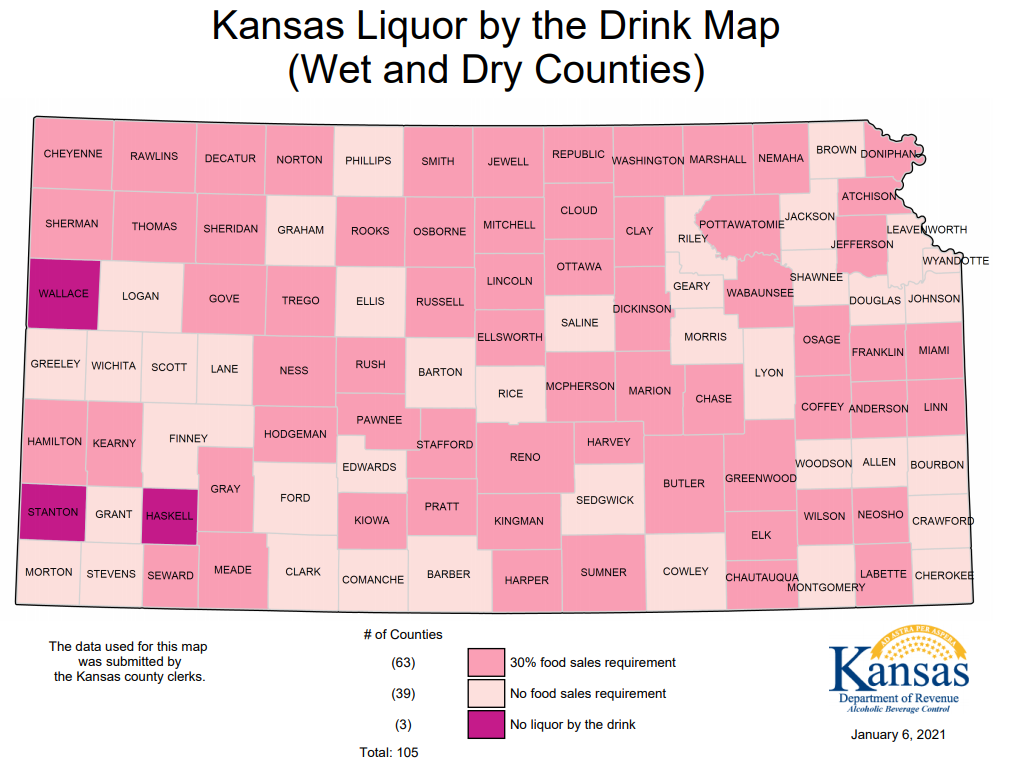 Thirty-nine counties have dropped the 30% food sales requirement. In 2020 four counties passed measures to remove the 30% requirement by large margins. The request was made by new businesses:
What we are
A brewery and taproom planning to open later in 2021.

We will need a liquor license to sell some of our beers above 6% alcohol by volume and to offer local Kansas wines.
What we are not
A restaurant.

We will offer snacks such as pretzels, chips and salsa, meat and cheese plates, pita and hummus, and other items in a grab-and-go style. Helping reduce the need for more waitstaff and cooks.
Why does this matter?
A 30% food sales requirement is an expensive consideration for sports bars, breweries, wine tasting rooms, distilleries, cocktail bars, and other liquor license establishments.
Courtland (pop. 294) currently has two restaurants with Pinky's and AnTeaQues and we believe our town cannot fully support a third without taking business from each other.
If this restriction is removed we can allow outside food to be brought into the taproom, provide local menus, and will partner with restaurants to cater our special events.
Who knows, maybe this creates a demand for limited food delivery for events or busy times of the year (harvest meals)?
Conclusion
The current 30% food requirement would cause an undue burden to our business model requiring thousands of dollars invested into an already small brewing space for kitchen equipment, food storage, staffing, training, and licensing.
Our local restaurants were hurt by COVID-19 and most are facing
staff shortages. We'd rather partner with and promote local eateries than compete for food sales and workforce.

– Luke & Jennifer Mahin, Irrigation Ales owners