We have officially been open for a month, and it has been a crazy, exciting, and busy time for us. If you've stopped in or drove by you've probably seen the hustle and bustle on Main Street in Courtland. It gives us goose-bumps seeing 1-2 blocks of Main Street loaded with cars every Friday and Saturday night for 4 weekends straight in a town of 294 people.
We are currently open Friday 5 pm-11 pm and Saturday 12-10 pm.
We are so thankful for our friends, family, community, and the folks who travel to experience what Irrigation Ales has to offer. Thank you for supporting us, following our journey, purchasing our merch, snacks, and beer! We're so happy we've been able to share our space with you for the past month.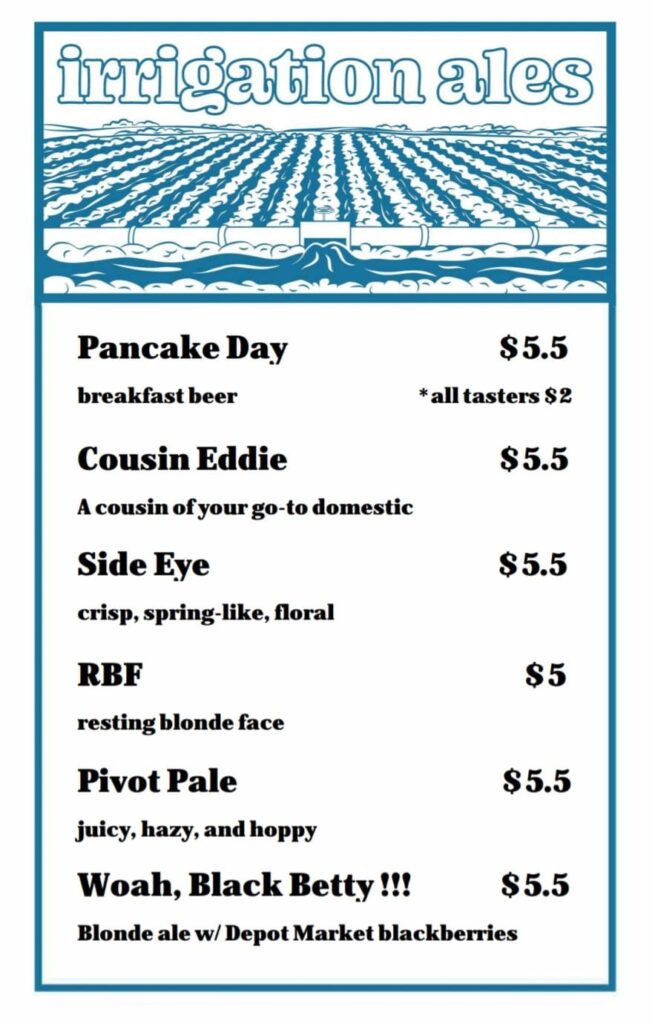 Our beer list is constantly evolving week to week! We started with our Flannel Stout, Pinkies Out (Sumac Pilsner), Pinkies Pilsner, Volunteer Wheat, Pivot Pale Ale, and Red Trucks (a red ale). When Pinkies Out was gone, we added Gwheape to the mixture. Gwheape was grapefruit wheat. Next, we added the Side Eye (Saison) once we ran out of the Volunteer Wheat. As of this past weekend, we ran out of Red Trucks and Gwheape so we added Resting Blonde Face aka RBF to the lineup. This past Saturday we dropped our Pancake Day beer release to go along with the Pride Club's Pancake Day. This beer was made using 40lbs of syrup to give it that pancake day feel. We also released Woah, Black Betty! on Saturday. This delicious beer is made using the Depot Market's blackberries.
Coming out next will be a Canal Kolsh, Scandiego (a west coast IPA), and up next to be brewed is our most requested beer …a Mexican lager named Lovelwell Lager. We're going through almost 3 barrels (93 gallons) of beer a weekend! Our experimental flavors don't last long, so come on in and try something new, or grab your favorites to-go!
If you haven't heard, Luke is stepping down from economic development at the end of April to work in the brewery full-time!
Planning your next trip? Make sure to check out all the Things To Do in and around Courtland! Make sure to check out our to-go beer next time you stop in! If you are looking for somewhere to watch the Final Four games this Saturday? Stop in and grab a drink, a charcuterie box, or a hummus bowl, and cheer on your favorite basketball team!
#overtheriverbelowthelake #getirrigated