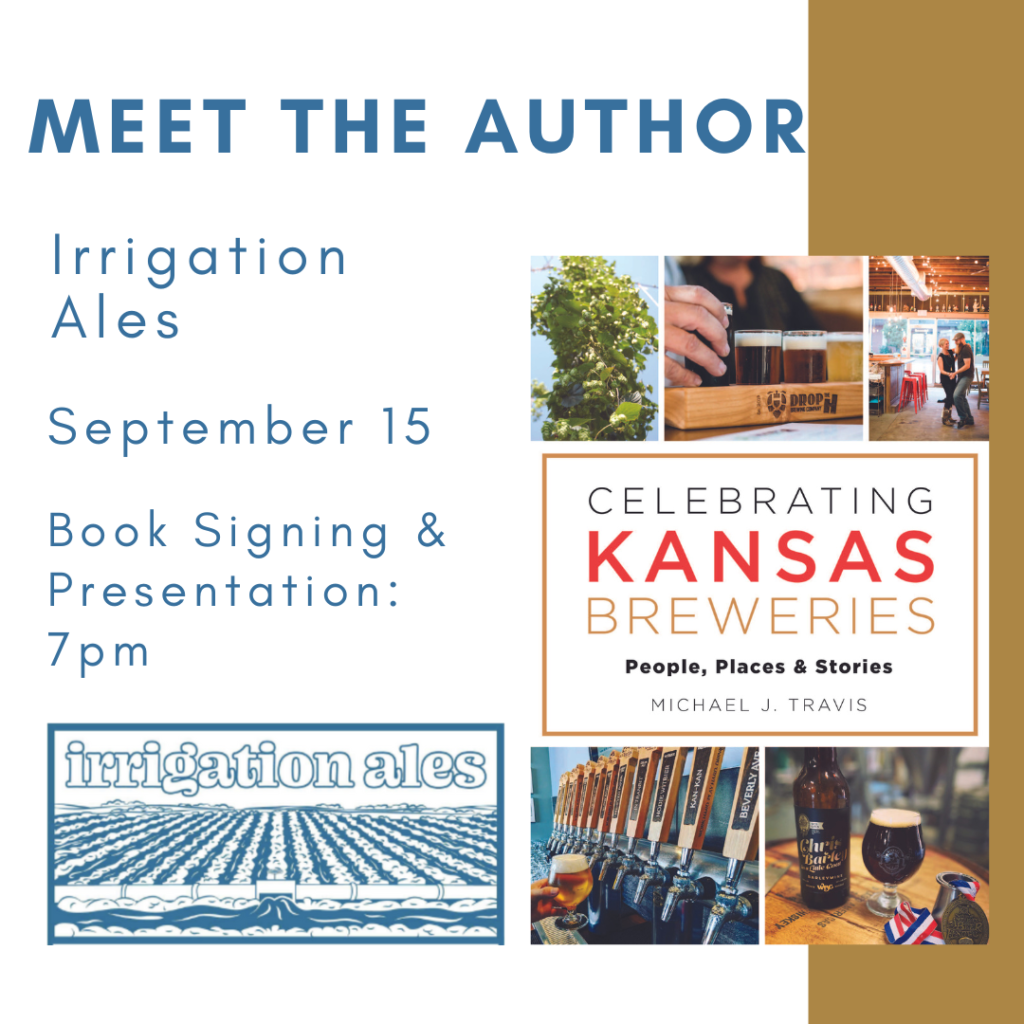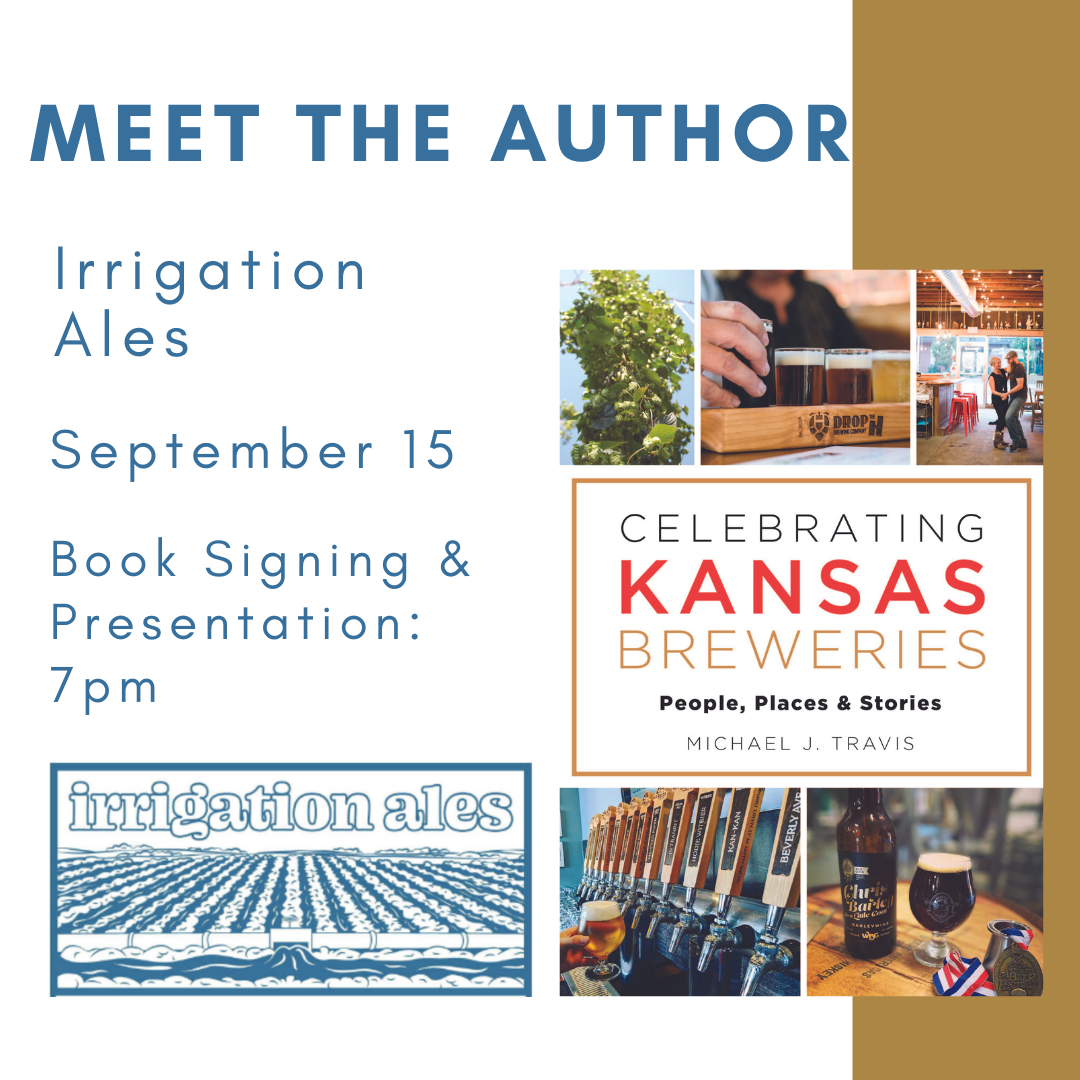 COURTLAND, KS – Irrigation Ales will host a book signing and presentation by Michael Travis, author of Celebrating Kansas Breweries: People, Places, and Stories. Join them at 414 Main Street, Courtland on Thursday, September 15th, 2022, at 7:00 p.m. Michael traveled for a year and visited every brewery in the state of Kansas, capturing the heartbeat and story behind the owners and head brewers who make the magic happen.
The book features Irrigation Ales Co-Owners Luke and Jennifer Mahin in a chapter titled "It's a Small Town Sticking Around" from his visit in the summer of 2021 while they were building out the brewery.
About the Book
Breweries in the state of Kansas are opening at a fast pace, in communities from Council Grove to Olathe. As the industry grows, the opportunities for craft beer fans to enjoy the communities and beer abound. Check out Ryan Triggs and Nick Feightner at Tall Trellis Brew Co, where you can enjoy a pint while sitting next to hop bines. Visit Fields & Ivy Brewery, the only brewery in the state with an active grain silo. Author Michael Travis traveled for a year and visited every brewery, capturing the heartbeat and story behind the owners and head brewers who make the magic happen.
About the Author
Michael Travis first fell in love with beer while attending the University of New Hampshire in the early 1980s. He graduated with a BA in economics, studying important supply and demand theories, learning to take advantage of heavily inventoried, inexpensive beer brands perfect to quench a college kid's thirst. Michael worked in corporate retail for years, starting with Target in Minneapolis, birthplace of both of his daughters. He learned to appreciate the art and effort put into gourmet food, exquisite wine and great craft beer during his career spent primarily with Payless ShoeSource in Topeka, Kansas. Michael celebrates the spiral-bound journal he wrote, capturing a 1972 family summer road trip to the West Coast and back, by seeing Celebrating Kansas Breweries: People, Places & Stories be published fifty years later.
About Arcadia Publishing
As the nation's leading publisher of books of local history and local interest, Arcadia's mission is to connect people with their past, with their communities and with one another. Arcadia is the home of unique hyper-local histories of countless hometowns across all fifty states, as well as books on local food, beer and wine; and stories of famous hauntings, all one American city and town at a time. Arcadia has an extraordinary catalog of 17,000 local titles and publishes 500 new books each year. Arcadia counts among its imprints Pelican Publishing, a 100-year old independent press based in New Orleans, and the critically acclaimed Wildsam Publishing, publisher of highly curated travel literature and guides. Using its proprietary Store Match system, Arcadia can create a highly customized hyper-local book assortment for any storefront in the nation.
Irrigation Ales is one of the most 'pivotal' breweries in Kansas in the second smallest brewery town in the state. Stay up to date with events and latest beers on social media or visit http://www.irrigationales.com. Their hours are Thursday 5-10 pm, Friday 5-11 pm, and Saturday 12-10 pm.