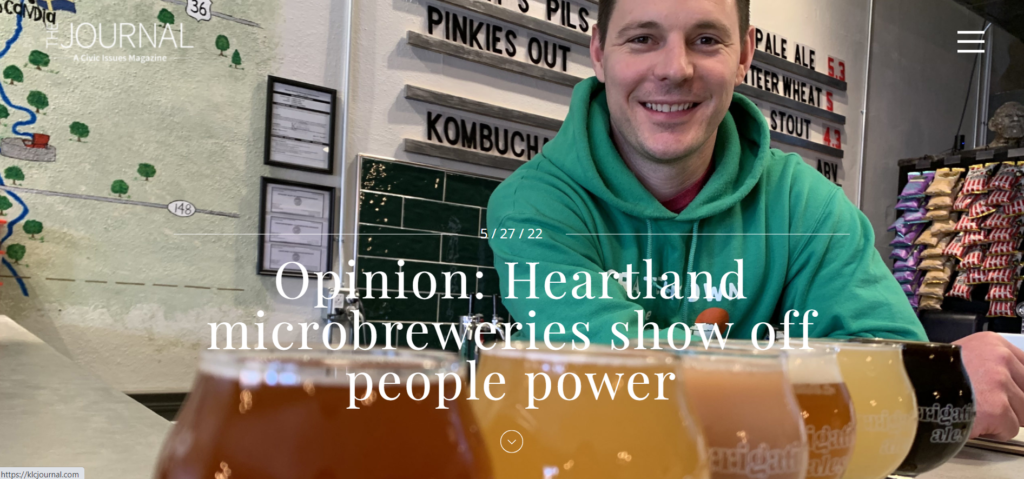 HEARTLAND MICROBREWERIES SHOW HOW SMALL BUSINESSES SHAPE SHARED PROSPERITY
The building next to the post office on Main Street in Courtland, Kansas – population almost 300 – used to house the senior center. It's now home to Irrigation Ales, a brewery that serves up six taps of handcrafted brews in north-central Kansas.
Seniors are still welcome at Luke and Jennifer Mahin's establishment. But the bright and homey interior, complete with irrigation-themed murals, and the tasty beer will draw in people of many ages. (For non-drinkers, homemade root beer
is an option.)
I visited Irrigation Ales just a day after its packed February grand opening. Entrepreneurs like the Mahins have been on my mind ever since, particularly after the Kansas Leadership Center visited small and mid-sized communities in Kansas, Nebraska, Iowa and Missouri this spring to learn about their economic and community challenges.
The Mahins aren't just good at making beer. They are creative business owners who brew in retrofitted dairy tanks. They are also community builders who worked with the Republic County Commission and voters themselves to repeal a requirement that required establishments serving alcohol to do at least 30% of their sales in food.
That allows the brewery to focus on making beer. It can support rather than compete with nearby restaurants. And because the change clears the way for other new businesses to start, it could help others too.
Irrigation Ales feels like it's part of a broader movement. Entrepreneurship is about way more than brewing beer. But more and more ventures are producing big-city quality products and ambiance while staying true to their roots. Along with businesses such as bookstores and coffee shops, they play key roles in fostering community connections.
You can see it at Ladybird Brewing in Winfield, where Kaydee and Laura Riggs-Johnson have transformed a gas station-auto repair shop that now welcomes both bicyclists and socializers on a warm Saturday afternoon. On a visit to Knoxville, Iowa, I met Megan McKay, the founder and CEO of Peace Tree Brewing Co. She started the first 100% woman-owned brewery in Iowa back in 2009 and built an award-winning business with regional distribution.
I visited Peace Tree's original brewery and taproom to hear from her and others in the community about their challenges. I left with the sense that, although details like access to capital matter, the art of fostering dynamic, sustainable heartland economies is also very much about people.
The Mahins were well positioned to take a leap. Because Luke served as the director of the Republic County Economic Development Corp., he says he knew about many aspects of starting a business from working to build the ecosystem. And NetWork Kansas, a nonprofit that assists entrepreneurs, helped the community expand its foundation of resources to assist youth and adults with everything from making business plans to securing gap financing.
More communities need ways to encourage their residents and support and retain them. They need to work together to address shared problems. Many places don't just need more businesses. They need collaborative efforts to knock down barriers to entrepreneurship. The ultimate goal is a culture where people recognize the value of their communities and see a path for helping them bloom.
Your community might not need a brewery or a coffee shop or a bookstore. But it almost certainly needs more risk-takers like the Mahins who are willing to invest in their dreams. The prosperity of communities across our region in the decade to come might depend significantly on how much better we can get at creating healthy climates where that can happen.
Chris Green is the executive editor of The Journal, the print and digital civic issues magazine published by the Kansas Leadership Center. Over the past nine years, he has shaped The Journal into a nationally award-winning publication. The photo of Luke Mahin for this story comes courtesy of Sarah Green, his wife.